Ágnes Nemes Nagy
Kassák Sketches
Translated by Tim Wilkinson
---
---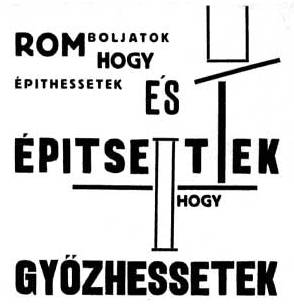 ---
SOURCE: Nagy, Ágnes Nemes. "Kassák Sketches"(1975), translated by Tim Wilkinson, Hungarian Quarterly, vol. 48, no. 186, Summer 2007, pp. 3-5.
---
External Links
A Man's Life... in the Proletarian Movement: Lajos Kassák 1887-1967 . Barricade Collective, Winter 2006.
Life and work, with graphic image (reproduced above) and translated poems "The Horse Dies, the Birds Fly Out" (A ló meghal a madarak kirepülnek), "Artisans" (Mesteremberek), "The Dictator" (A diktátor), "The Factory" (A gyár), "Like This" (Így).
Babilonhu / BabelMatrix: Hungarians in the Tower of Babel:
The page of Kassák Lajos, English biography
Kassák Lajos, Hungarian Works translated to EnglishWorks:
The dictator {Tabori, Paul} (A diktátor)
The horse dies the birds fly off (Closing Part) {N. Ullrich Katalin} (A ló meghal a madarak kirepülnek (Záró részlet))
My Poetry {Makkai, Adam} (Költészetem)
I'm With You {N. Ullrich Katalin} (Veled vagyok)
Lajos Kassák - Wikipedia, the free encyclopedia
Kassák and His Circle (Lóránt Czigány)
Kassák, Lajos | Budapest Poster Gallery
Selection of Dadaist Picture-Poems By Lajos Kassák from 1920-1922
---
On this site:
"The Horse Dies the Birds Fly Away"
(A ló meghal a madarak kirepülnek)
by Lajos Kassák, translated by Edwin Morgan
"Interview with Lajos Kassák"
(Edit Erki)
Futurology, Science Fiction, Utopia, and Alienation
in the Work of Imre Madách, György Lukács, and Other Hungarian Writers:
Select Bibliography
In Esperanto:
"Laborist-portreto" de Lajos Kassák,
tradukis Kálmán Kalocsay
Metiistoj de Lajos Kassák
Fragmento el la Romano »Vivo de Homo«
de Lajos Kassák, tradukis Ferenc Szilágyi
---
Home Page | Site Map | What's New | Coming Attractions | Book News
Bibliography | Mini-Bibliographies | Study Guides | Special Sections
My Writings | Other Authors' Texts | Philosophical Quotations
Blogs | Images & Sounds | External Links
CONTACT Ralph Dumain
Uploaded 7 January 2014
Site ©1999-2016 Ralph Dumain