Ralph Dumain
Inspired by M. C. Escher
---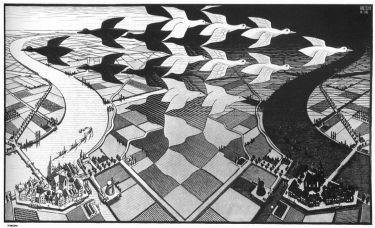 Is there freedom in taking flight?
Where opposites meet and melt and then depart?
What is the destination of customs and cities
and the whirling world indifferent to them?
It's a whirling world cut into mirrors,
laid out in squares, a glorious puzzle
of forces driving in the Impersonal,
as our persons pause, for a silent moment, to see it.

Self
making patterns,
building building blocks,
varied shapes... Character units
form, character emerges in construction,
artistic design of artifacts...
Architectures meet flowing
unknown sea,
solid.
---
Written for the National Gallery of Art program
Virtual Studio | Reflective Writing: Mirrors and Metaphors,
August 15, 2022, 5:30 pm EDT.
---
Borges, Magritte, & Escher
by R. Dumain
The Fantastic in Literature (excerpts)
by Eric S. Rabkin
"On the Dialectics of Metamathematics" (Excerpts)
by Peter Várdy
"Surrationally Yours"
by R. Dumain
Robert Zend (Hungarian-Canadian writer, 1929-1985):
Dedications, Works, Links
Offsite:
Martin Gardner Dead at 95
by R. Dumain
M.C. Escher - The Official Website
M. C. Escher - Wikipedia, the free encyclopedia
---
Home Page | Site Map | What's New | Coming Attractions | Book News
Bibliography | Mini-Bibliographies | Study Guides | Special Sections
My Writings | Other Authors' Texts | Philosophical Quotations
Blogs | Images & Sounds | External Links
CONTACT Ralph Dumain
Uploaded 23 August 2022
Images not from NGA, not original size
Text ©2022 Ralph Dumain