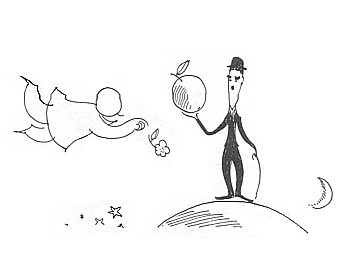 THE COMMON WELL
To Charles Chaplin
The well you invite us to drink of
is one that no drop may be bought of.
You think of what all of us think of
but nobody else could have thought of.
---
SOURCE: Hein, Piet. "The Common Well" (To Charles Chaplin), in Grooks 4, with the assistance of Jens Arup (Garden City, NY: Doubleday & Company, Inc., 1972), p. 6.
---
"Circumscripture" by Piet Hein
"Missing Link" by Piet Hein
The Tramp Speaks! The Most Important Moment in the History of Film: The Final Speech of The Great Dictator (1940)
by Charles Chaplin
On Charlie Chaplin by Henri Lefebvre
"La plej ĉarma flago" de Piet Hein, tradukis Poul Thorsen
Gruk de Piet Hein, trad. Poul Thorsen
Offsite:
Grook - Wikipedia, the free encyclopedia
Piet Hein (Denmark) - Wikipedia, the free encyclopedia
Piet Hein - Classic Danish design: Piet Hein
Recenzo: Gruk de Kumbel (Piet Hein), eldanigita de Poul Thorsen
de Gaston WARINGHIEN
---
Home Page | Site Map | What's New | Coming Attractions | Book News
Bibliography | Mini-Bibliographies | Study Guides | Special Sections
My Writings | Other Authors' Texts | Philosophical Quotations
Blogs | Images & Sounds | External Links
CONTACT Ralph Dumain
Uploaded 21 February 2004
Links added 5 May 2007, 27 Sept 2012,
9 May & 24 Dec 2013, 25 Sept 2015
Site ©1999-2015 Ralph Dumain