Rod Serling (December 25, 1924 – June 28, 1975),
A Great American
By Ralph Dumain
---
January 12, 2011 at 5:33 pm EST
Next December 25 I may set aside my traditional Isaac Newton birthday celebration to commemorate Rod Serling's birthday. As millions of people know, Serling injected a fair amount of social commentary into his Twilight Zone series, which I watched as a little kid. It is also known that Serling was an acclaimed television writer all through the 1950s, though most people who aren't really really old might not have heard of any teleplays other than Requiem for a Heavyweight. I never knew about any of his other work, or that he was born on Christmas day, or that he was Jewish.
I saw him in person in Buffalo in 1972. I remember only that he was a socially concerned person emphasizing our collective responsibility for human welfare.
Many people are aware of his Twilight Zone episodes dealing with racial, ethnic and religious prejudice, but how many know of this 1955 teleplay?
Uncensored: 'Twilight Zone' Creator's Script on Emmett Till Case
Serling's screenplay "Noon on Doomsday", written in reaction to the lynching of Emmett Till, was censored beyond recognition when it was shown in 1956.
This is one fact among many of Serling's illustrious career. Recent events bring to mind his hour-long 1964 Twilight Zone episode "He Still Lives," about the return of Hitler's shade to advise a young neo-Nazi rabble-rouser in the techniques of mass manipulation. This, of course, was broadcast in the heyday of the civil rights movement and the rash of white supremacist terrorism that accompanied it. Something to think about as we confront the last days of American democracy.
Written 12 January 2011
Slightly edited 6 May 2012
---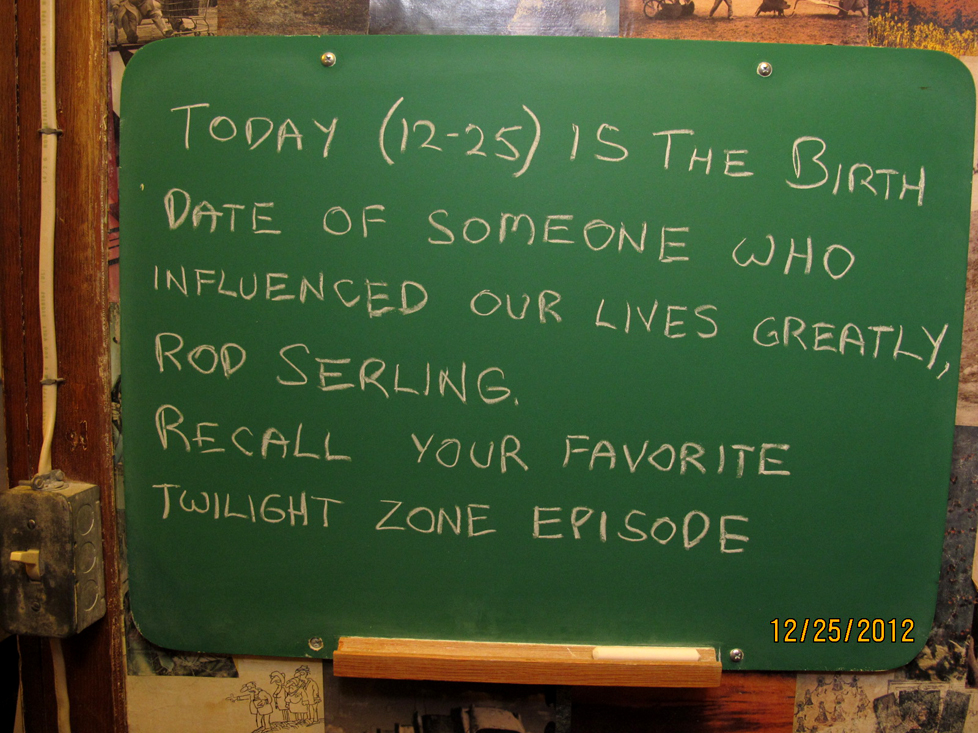 Richard Wicka, Buffalo, NY, 25 December 2012
---
Rod Serling in Buffalo, 18 Oct 1972:
"The Twentieth Century and Other Absurdities"
Rod Serling in Buffalo, 18 Oct 1972:
"The Twentieth Century and Other Absurdities" (2):
Courier-Express
Science Fiction & Utopia Research Resources:
A Selective Work in Progress
On other sites:
Homage to Rod Serling, a Great American
(21 March 2012)
By Ralph Dumain
Rod Serling's Final Interview [March 4, 1975]:
"Rod Serling: The Facts of Life," May 27, 1976, by Linda Brevelle
Rod Serling Memorial Foundation
---
Home Page
|
Site Map
|
What's New
|
Coming Attractions
|
Book News
Bibliography
|
Mini-Bibliographies
|
Study Guides
|
Special Sections
My Writings
|
Other Authors' Texts
|
Philosophical Quotations
Blogs
|
Images & Sounds
|
External Links
CONTACT Ralph Dumain
Uploaded 6 May 2012
Photo added 25 December 2012
Linksadded 5 March 2020 & 30 May 2021
©2011-2021 Ralph Dumain